News Release
For Immediate Release
June 28, 2021
NR 21-05
Contact: Yating Campbell
Office of Public Affairs
916-327-8988
CDTFA Interactive Data Visualization Tool Wins 2021 FTA Best Practices Award
Sacramento – The California Department of Tax and Fee Administration's (CDTFA) Data Visualization Tool wins the Federation of Tax Administrators' (FTA) 2021 Award for Best Practices in Tax Administration. The tool provides on-demand information to the public in an interactive and easy-to-understand format.
"Our interactive data visualization tool demonstrates CDTFA's commitment to transparency and to utilizing new technology to better serve our taxpayers. You don't need to be a statistician to access our data; we make it simple for you to understand the easy-to-find information to help you make decisions. Thank you, FTA, for this recognition, and thank you to the incredible public servants at CDTFA who created this great data resource," said CDTFA Director Nick Maduros.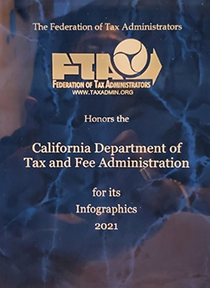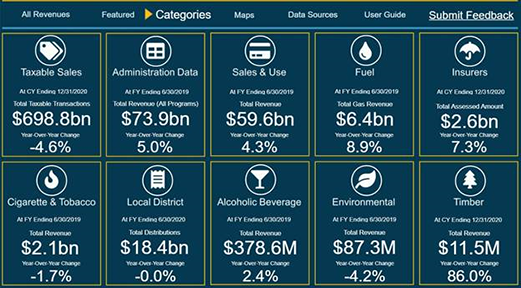 The Federation of Tax Administrators is a nonprofit organization composed of the tax and revenue departments of the 50 states, the District of Columbia, New York City and Philadelphia. Its mission is to improve the standards and methods of tax administration. Its award program is designed to reveal best ideas and practices that can be shared with other state tax administrators. Award winners are programs or ideas for tax administration that demonstrate "that special something" and can be adopted by other tax agencies. Winners were honored at the 2021 FTA Annual Business Meeting held June 25.
---
The California Department of Tax and Fee Administration (CDTFA) administers California's sales and use, fuel, tobacco, alcohol, and cannabis taxes, as well as a variety of other taxes and fees that fund specific state programs. CDTFA-administered programs account for over $73 billion annually, which in turn supports local essential services such as transportation, public safety and health, libraries, schools, social services, and natural resource management programs through the distribution of tax dollars going directly to local communities.